In recent years there have been widespread stories that have appeared in the media, that have exaggerated the catastrophic effects of mold on human health.
For the most part, these severe cases are anecdotal and have been embellished by the press to sell headlines.
Molds flourishes wherever there is moisture. Mold can only grow in damp, humid, moist, or wet conditions. Removing the moisture from an area kills the mold and prevents it from growing and spreading.
Mold will not take over a house or property unless there is a constant supply of water or moisture that allows it to spread its spores and grow.
Therefore, if you have a mold problem and you can't seem to stop the spread of mold on your property, you need to find the source of the water, dampness or excess moisture.
Check for leaks behind drywall or under flooring as well as checking the seals around windows, doors, and roofs. Additionally, you should inspect the flashings around vents or air conditioner equipment for possible leaks allowing moisture into your property.
It is very important that before you start getting rid of mold and remediating the problem, that you find the original source of the moisture so that you can effectively stop ongoing growth and prevent any mold growth reoccurrence.
Using moisture reading equipment, we found that the air conditioner unit had been leaking very slowly and over time, water had pooled under the carpet padding. There was now a significant mold problem underneath the carpet.
Before we removed the mold, the air conditioning unit needed to be repaired to ensure that it did not continue to leak and continue to create an environment for the mold to grow in.
ACT QUICKLY TO PREVENT AND REMEDIATE
MOLD PROBLEMS
If you have a mold problem, it is important to act quickly.
Mold can not only cause health problems, but it also damages the surfaces it grows on. Obviously, the longer the mold is left to grow, the more damage occurs to the property.
Additionally, as we have already pointed out when you have a mold problem the biggest impact to your property will be a decrease in the air quality.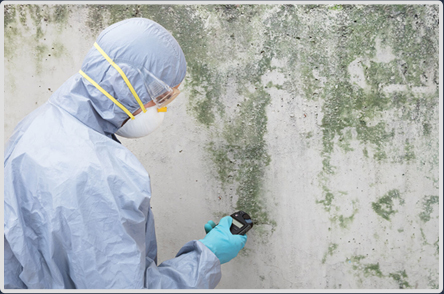 In some cases, mold can be stopped before it even has a chance to start.
If you have water damage on your property, the key is to remove the water as quickly as possible to reduce the chance of mold growing in the first place.
After building materials are exposed to water or moisture for more than 24-48 hours, mold will start to grow and the materials may be permanently damaged.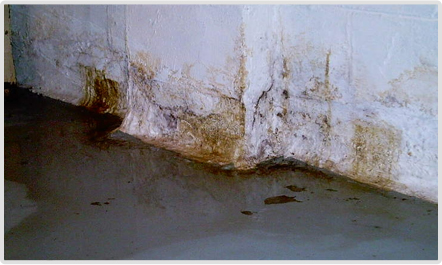 When the restoration company finally arrived, they did not properly remove the unsalvageable building materials and instead, set up fans that blew millions of mold spores throughout the entire basement area.
Because quick action was not taken when the water damage first occurred, the project required full-scale mold remediation where simple but effective drying techniques would have sufficed if they had been started within 12-24 hours of the flood.
When you are choosing a restoration specialist to help with water or mold removal, make sure you choose a company who can act quickly and start the drying process.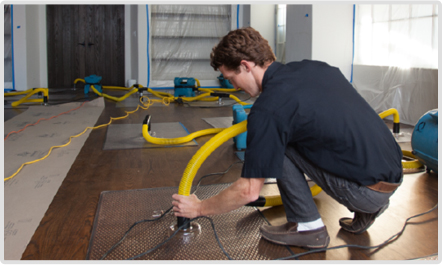 Fans and dryers are set up immediately after that.
Completely drying out all building materials is absolutely essential for effective mold management and elimination.
WHEN TO HIRE A MOLD REMOVAL COMPANY
According to the EPA, if the mold growth on your property is contained to an area less than 10 square feet (like a 3 ft. x 3 ft. a patch of mold), then you can handle the job yourself.
If not, you need to call a professional mold remediation company to help you safely and effectively remove the mold and ensure the problem is completely eradicated.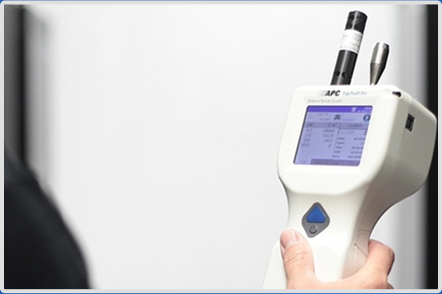 Additionally, if the mold has entered and contaminated the heating/ventilation/air conditioning system you will need to hire a mold removal company to clean the mold before you turn the HVAC on—otherwise you risk spreading mold throughout the entire building.
Another case where you need to call a professional to remove the mold is when the water damage is caused by contaminated water or sewage.
You need someone with the right tools and expertise in containment and safety to handle the cleanup of hazardous materials.
If your property has a moldy smell and you think there might be an unseen leak, it can be very helpful to hire water and mold restoration specialists to identify possible sources of water and moisture.
One of the benefits of hiring a mold removal company that are specialists in handling mold is that it reduces possible cross-contamination to other areas of your property.
We have seen many instances of when home or business owners try to clean up mold by themselves, but fail to set up a containment area when they are cleaning up the mold.
Once you start scrubbing or wiping the mold, the spores automatically become airborne and can easily travel and contaminate other parts of your home or office.
They are also experts at disposal of any items contaminated by mold so that future mold outbreaks can be completely avoided.
HOW TO CHOOSE A MOLD REMOVAL COMPANY
When you hire a mold removal company, make sure you call an expert with years of experience and a proven track record.
You want someone who has the equipment, the technicians, the knowledge, and the experience to handle your job, no matter how big or small it is.
You should look for someone with quick response times and professional containment standards. Your safety should be their highest priority.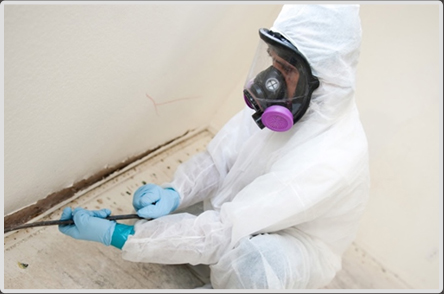 At Titan Restoration we have been eradicating mold and remediating its effects from homes and businesses for over twenty years.
We have a large, well-trained team that uses their extensive knowledge and expertise to remove the mold from any property, quickly, effectively, and without cross-contamination.
Our goal is to eliminate loss.
And so we work as efficiently as possible to minimize the damage and growth of the mold without ever cutting corners. We work at the highest standards and follow a specific process to ensure the mold is completely removed.
Next, we set up and run HEPA (High-Efficiency Particulate Air) vacuums and air scrubbers to clean the air of any airborne mold spores and prevent the possibility of unintended transfer or cross-contamination.
Regular air filters will not work to eliminate mold particles from the and can actually make the problem worse, which is why we only use HEPA filters, designed to capture particles as small as mold spores.
Then, the mold-affected area is thoroughly cleaned and sanitized with industrial-strength disinfectants and antimicrobial chemicals.
During this process, we simultaneously use HEPA air scrubbers with the appropriate number of air exchanges to trap the airborne spores in the filter.
Any porous materials that cannot be entirely sanitized and salvaged, are then properly disposed of and replaced.
The affected area is then treated and sealed to prevent any possible future mold growth.
As you can see, throughout the mold removal process, Titan takes the utmost care to thoroughly eradicate the current mold infestation while working at the highest safety and industry standards. This high standard of excellence prevents any subsequent mold outbreaks.
Make sure that you choose a mold removal specialist that has equally high standards of safety and quality in their work.
TITAN RESTORATION OF ARIZONA IS A
MOLD REMOVAL SPECIALIST
Above all, your health and safety are our highest priority. We do all of our mold removal work to minimize the risks to you and property.
Our team's training, experience, and technical expertise allow us to provide the very best mold removal service available in the Phoenix Valley.
We are here to help you through the mold remediation process.
Mold can be remarkably persistent and pernicious.
It has survived for millions of years.
But our record, our customer reviews, and our reputation in the restoration industry can give you complete confidence in Titan Restoration's ability to completely eradicate any mold problem from your property. And do it all with efficiency, excellence, and care.
While mold has been a part of human history since the beginning, harmful amounts of concentrated mold spores should not be a part of your life and does not belong in your home or business.
If you are facing a mold problem, contact us to be your mold removal experts so that you can breathe easier.