No matter the cause of the fire, whenever your home is damaged by fire, it is a devastating experience.
The shock and grief, the fear and destruction, the mess and the damage are all stressful and painful.
Having a good understanding of the restoration process that is ahead of you if you have suffered fire damage, can help alleviate much of the worry and anxiety you may feel.
In this article, we will give you lots of good information if you have a fire damaged home. This guide will let you know what is involved to restore your home like new.
We will discuss what fire damage is, what to do first in the case of fire damage, how much it costs to repair your home after a fire, as well as the timelines involved in restoring your home.
We will talk about the methods to clean up fire damage and the role of restoration companies in fire clean up and repair. We will go through the entire process from beginning to end to help you understand what you can expect when you have a fire damaged home.
Fire damage is any structural or cosmetic damage that happens in your residential or commercial property due to fire, no matter the size of the fire or extent of the damage.
Here in the Phoenix valley, we see fires caused by lightning strikes during monsoon season.
Fires are also caused by household accidents or appliance or electrical wiring malfunction. Kitchen and cooking fires can also cause extensive damage in a home.
We helped a client one time whose home was significantly damaged by a grease fire. The client was not even home at the time.
A pot of oil for frying had been left on a back burner of a stove.
The client had turned on the oven and put dinner into cook while she ran an errand, not noticing or thinking about the pot of oil because she was not using the stove.
But the oven got hot and ended up heating the oil on the stove inadvertently. The oil began to smoke and soon the kitchen was engulfed in flames.
WHAT TO DO FIRST WHEN THERE IS FIRE DAMAGE
For anyone that has experienced a house fire and the terrible devastation and loss, you know that there are few things as upsetting and shattering.
When it seems like your whole world and many of the things you hold dear, just went up in smoke, it's easy to feel anxious, distressed, and overwhelmed.
First, remember that as bad as it feels right now, it will get better. Breathe deeply. You have had a tremendous shock, both mentally and emotionally. We can tell you from experience, that everything is going to be okay. Given your loss and the uncertainty of the situation, it's normal to feel stressed and worried. Do your best to manage your fears by realizing that while today is painful, things will get better and eventually they will return to normal.
If you experienced a large fire and suffered a significant loss of property and irreplaceable contents, give yourself time to grieve and process your loss. The rebuilding and restoration process can be lengthy depending on the size of the fire, and it's good to remember that you don't have to figure out everything all at once. You will get back to normal one step at a time. Be patient with yourself and the process.
Second, remember that you are not on your own. Thankfully, most people have never had a house fire before and the entire experience is new and scary.
Even though this is all unknown, throughout this process, you will be surrounded by people with lots of experience.
They will guide you and help you along the way.
The first responders who work to extinguish the fire will give you instructions about entering or not entering the property. They have experience and knowledge that you don't have. Listen to their advice so that you can keep yourself and your family safe. After a fire there can be extensive structural damage to your home, as well as dangerous chemicals and smoke released into the air. After your property is secured, don't reenter the home until the firefighters tell you it is safe.
You will need to find a different place to stay. Even if it's just a small fire, it has to be inspected and thoroughly cleaned of soot, smoke, and ash before it will be safe to occupy. In order to avoid long-term health consequences you need to avoid breathing the air in the home or coming into contact with burned materials.
In some cases, the restoration process can take several months and a more long-term housing situation will be needed, but you can address that if it becomes necessary.
If you can stay with friends or family members it may be comforting and give you some peace.
If you can't, there are disaster relief organizations in your community that can help like the Salvation Army or the Red Cross.
Finally, another thing you will want to do right away is contact your insurance company about your loss. They will send an adjustor to examine the damage and start the claims process. They will help you start documentation for loss and can advise you when and how you can start to restore your home or property.
HOW MUCH DOES IT COST TO REPAIR YOUR
HOME AFTER A FIRE
Obviously, how much it will cost to repair your home after a fire will depend on a number of factors, but it's good to understand that not only did the fire itself cause considerable damage, but the soot and smoke created another kind of damage, and still more damage was created when the fire was extinguished.
When the firefighters put out the fire they sometimes have to put holes in walls and ceilings or break windows or doors. Additionally, the water used will cause considerable damage as well. All of this must be cleaned up.
In most cases, your homeowners insurance will cover part or all of the cost of repairs. They will send an adjuster to check the validity of the claim and get the process started. Often you will need professional restoration experts to clean up after a fire to ensure that it is properly restored and safe for you and your family. Make sure you get insurance authorization for restoration before you begin repairs and comply with the requirements of your insurance company.
The cost of repairing your home after fire is based on:
The number of rooms
The amount of damage from the fire and extinguishing it
The extent of the repairs needed
All of these factors will affect the price of cleanup and restoration.
Some industry statistics estimate that it costs about $4.70/sq.ft to restore a home after a fire. You can estimate how much it might cost by using the square footage of your own home.
Remember though that this is just a rough estimate.
Your exact costs will also depend on how much chemical repair is required for the damage of soot, smoke, and extinguishing chemicals.
The national average for a full restoration is $12,500, but people typically pay in the range from $3000 – $30,000.
To break this down further, the following chart will allow you to see what each part of the process is estimated to cost:
CLEAN UP REQUIRED
ESTIMATED COST –

*Cost will vary depending on amount of damage and size of home

Water Damage Cleanup
$1,000-$3,900
Soot Removal and Cleanup
$2,000-$6,000
Burnt Materials Cleanup
$50-$100 per pound
Smoke Damage Cleanup
$200-$1000
We will talk about each of these different types of clean up in more detail in the section about the methods of clean up. But first let's see how long you can expect the process to take.
HOW LONG WILL IT TAKE TO RESTORE MY HOME
AFTER FIRE DAMAGE?
The truth is that it will take much longer than you want to restore your home after fire damage. After a catastrophic loss like a fire even one day feels too long. You just want to get back to your normal life. But, it's important to understand that the restoration process after a fire takes a long time and resisting that will only make it worse.
1
Phase One: Mitigation and Demolition (3 weeks)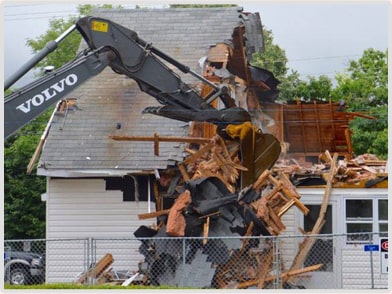 Your home will be tested for soot and smoke damage and high-efficiency particulate air (HEPA) vacuums will be set up to clean the air.
The areas that need demolition will need to be assessed. Professional mitigation experts will be called to see how much fire and water damage has occurred and what areas and materials are
Those materials that are too damaged will need to be removed.
Depending on when your home or property was built, asbestos testing and lead testing might also need to be done.
2
Phase Two: Rebuilding (3-6 months)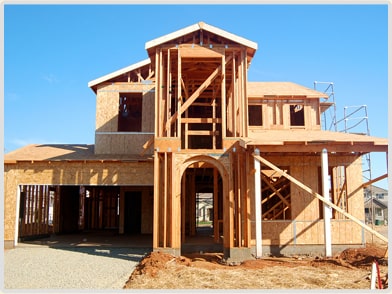 After demolition and mitigation, the next step is building back the home to its pre-fire condition.
A contractor will write an estimate to be approved by your insurance carrier.
Sometimes getting authorization takes time.
Once the rebuild is approved, work will begin.
Just like with the cost of repairs, the time it takes to repair the home from fire damage will depend on the size of the house and the extent of the damage.
A small home with minimal damage could be restored in a few days, whereas a complete rebuild of a large home could take more than six months.
METHODS TO CLEAN UP FIRE DAMAGE
Fire damage clean up typically needs to be done by professionals because of the caustic and dangerous nature of the chemicals involved in burnt materials, soot, smoke, and VOC's (volatile organic compounds) which are created by the fire.
Not only are these chemicals dangerous, but they are also not effectively cleaned up by traditional methods. They require specialized equipment, specific cleaning agents and chemicals, and professional application.
Let's look at some of the specific methods that will be used to clean up your home after fire damage:
1
Water Damage and Cleanup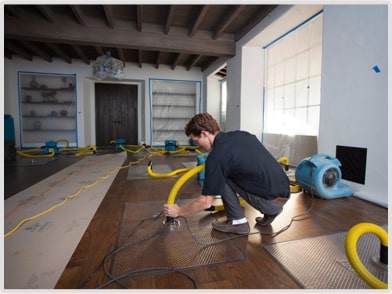 Putting the fire out requires either water or other chemicals, which unfortunately creates further damage to your property.
The faster you can remove the water from the property the less chance there is of mold growth.
If you can avoid mold damage in addition to the rest of the damage your property suffered, it will improve the speed and the cost of the project.
The water from fire hoses can soak into the materials of your home and destroy walls, drywall, and carpeting. To repair water damage, large fans and dehumidifiers will need to be set up as soon as possible.
Alternatively, sometimes firefighters use chemical extinguishers. These leave a toxic residue all over your home and the resulting chemical contamination will need to be cleaned up. When chemicals are used to put out a fire, it may require chemical sealers to be applied to prevent further damage or harmful health effects.
2
Soot Removal and Cleanup
Soot is also a part of the aftermath of a fire. Soot is created from incompletely burned materials.
It is a deposit of impure carbon particles, and it can pose a great risk to human health if not properly cleaned up.
These impure carbon particles can penetrate any porous surface like furniture, draperies, building materials, carpet, clothing, etc.
The longer soot is left, the more it penetrates and the more difficult it is to remove.
There are two kinds of soot, depending on the exact kinds of materials that were burned: dry or oily.
Dry Soot can be cleaned up using dry sponges and a low-alkali detergent.
Oily Soot just spreads further when dry soot cleaning methods are used to clean it up. Oily soot responds to high-alkali detergents and then requires a thorough
rinse.
When the soot is cleaned up, your air ducts and HVAC system will also need to be thoroughly cleaned in order to prevent further soot damage from showing up later.
After soot and water damage have been taken care of, then smoke damage can be addressed.
As you know, fire creates smoke as it burns through flammable material and this smoke then clings to every surface: walls, furniture, ceilings, floors, vents, appliances, clothing, etc.
Traditional cleaning methods may help remove visible evidence of the smoke, but smoke seeps into cracks, crevices and pores that ordinary cleaning methods miss.
Smoke residue erodes surfaces over time and creates more and more damage as time passes. And smoke odor always lingers. Even when you clean the visible smoke damage, the smell remains.
Smoke, like soot, is highly toxic. It can cause illness and irritation for both humans and animals. Your appliances will need to be replaced for the same reason, as smoke can penetrate them and damage their sensitive electronic components.
Smoke damage gets worse and the odor gets stronger the longer it is left without being treated. Clothes, carpet and drapes absorb smoke. Professional fire mitigation specialists clean up smoke damage in two ways:
Thermal Fogging – Thermal fogging can remove smoke odor from fabrics by using the same properties that got the smoke odor into the fabric in the first place. It is an effective way to completely remove smoke odors.
Ozone Treatment – Ozone treatment uses ozone machines or chemicals to break down the smoke molecules and remove the odor.
4
Burnt Materials Cleanup
All of the burnt materials in your home are also dangerous and carcinogenic and need to be handled and properly disposed off only when wearing protective equipment.
WHAT DO RESTORATION COMPANIES DO?
After a fire, a restoration company will send an emergency response team to assess the damage to your home, secure the property from future weather damage or intrusion, begin pumping out water and drying where necessary to mitigate mold growth, as well as estimate the total extent of the damage.
At Titan Restoration we can also do a 3D virtual imaging scan of the fire damage which allows the adjustor to see the extent of the damage without even having to visit the property. This will speed up the claims process and improve transparency throughout the entire restoration process.
Your restoration contractor will also probably begin ventilation, to air out the house as much as possible, using industrial-strength HEPA fans and air scrubbers to purify the air from burned particulates, but also to begin reducing the overall amount of smoke damage to your home.
These first, immediate steps taken by a restoration contractor will make a big difference in minimizing and preventing additional damage.
After your insurance company authorizes work to begin, then the extensive cleanup and demolition where necessary will begin.
The restoration company will carefully perform demolition and proper disposal.
You can also expect that the restoration company will salvage what they can and then begin cleanup of the water, soot, smoke and burnt materials.
Using very specialized equipment, HEPA filters, various alkaline cleaning solvents, sealants, and trained expertise, restoration contractors will be able to safely remove all traces of the smoke and soot and corrosive elements as well as their odors so that your home can be perfectly restored.
Throughout the demolition, cleanup, and rebuilding process you restoration will communicate with you, answer your questions, guide you through decisions, and keep you abreast of timelines and budgets. They can help you navigate the claims process and submit documentation to your insurance company. They will guide you through the entire experience.
Restoration companies have the training and expertise to properly address the unique requirements and considerations of fire damage. You will need their experience and knowledge to return your home to its original beauty.
Because of the dangerous nature of the fire and the chemicals that are required to clean it up completely, the process will not be quick and the work will need to be done by professionals.
You will need to trust your restoration experts and their well-earned expertise. They have all the equipment, clothing, chemicals, and disposal techniques to do the job safely and thoroughly.
Every fire is different. Every fire burns at a different rate, at different temperatures, fueled by different materials, with different amounts of oxygen, and each one was also extinguished in a different way. All of these factors make a difference in the cleanup and restoration process and the techniques and methods that will be most effective.
Your restoration team knows that your fire is unique. You can trust them to restore your home to its cleanest, safest, most beautiful state. That is their job and they know exactly what to do to get you back to normal as soon as possible.
If you choose a dependable, exceptional restoration team, you can always rely on them to do what's best for you and your home all through the restoration process.
At Titan Restoration we have seen fire damage of every size and severity.
We have helped hundreds of clients navigate and get through this very difficult experience.
We are committed to producing exceptional restoration of every home that is damaged or destroyed by fire.
Our fire mitigation technicians have the expertise and knowledge to perfectly restore your property. We know exactly what needs to be done and it makes a difference when you work with a contractor committed to excellence in every aspect of the job—from the work we perform to the way we keep you informed and updated about the progress on your home.
Most of all we understand how stressful and painful fire damage can be. We know that your home is more than a collection of wood, carpet and flooring.
We know it is the place you have built your life and made memories and raised your family.
This means a fire can be especially devastating.
We will do our best to alleviate the anxiety, pain and worry of fire damage by making the process as easy as possible.
Everything we do is aimed at making your fire damage restoration as easy, efficient, and beautiful as possible.
Everything we do is aimed at making your fire damage restoration as easy, efficient, and beautiful as possible.
Now it's your time to share your feedback.
Let us know if this guide is helpful to you.
Share and comment down below and remember we are always here to help you out in Arizona for 24/7 Emergency Service just give us a call : 480-649-5050.