Although hardwood floors tend to have finishes and sealants meant to protect the wood from water damage, your floor vulnerable may be vulnerable especially with improper maintenance. If your hardwood floors have experienced water damage, then you should know that the first 24 hours are crucial. Anything you do within this time can mean saving your beautiful flooring or having it replaced. Let's look at practical steps on how to dry out hardwood floors after a flood.
Safety First!
The first and most important thing you need to do after a flood is ensuring safety. I understand that you're stressed, and you want to get rid of the water so that everything can go back to normal. Be sure to think safety first and turn off electricity at the mains to avoid possibly being electrocuted.
How to Dry Out Hardwood Floors After a Flood
Get Your Things Off the Floor
It's important to get your belongings out of the water as quickly as possible so that you can salvage them. If you have furniture, carpets, rugs and other items that were affected by flood water, then take them on the sun to dry. The quicker you react, the more likely your floors can be restored. A flooded area starts getting smelly and moldy fast; remove any items so that the actual process can begin. If there are items that cannot be salvaged, dispose them off carefully.
Remove any Stagnant Water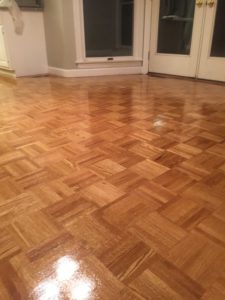 The next crucial step is mopping up any standing water caused by the flood. A hardwood floor can be salvaged if the degree of damage isn't that serious. That's why we mentioned it's important to act within the first twenty-four hours. Use a rag or mop to wipe water that may be puddling on the floor. Letting the water sit for too long can cause irreparable damage, which means more expenses. If you don't prefer using a rag or mop, then a wet vacuum can do the job. One thing you need to note is that safety in this step is also very important. The floodwater may have swept sewage into your home. Being armed with safety equipment such as gumboots, gloves and a safety suit is very important.
Disinfect the Floor
We have mentioned that the floodwater may come in carrying sewage, herbicides and other hazardous materials. Therefore, disinfecting the floor is very important to kill germs and ensure a safe atmosphere. Also, disinfecting prevents mold growth and development. Mix your disinfectant with water, take a brush, dip it into your disinfecting solution and start scrubbing the floor. Scrub until you're satisfied that your floor is free from germs. After that, use the mop or vacuum to remove any water left on the floor.
Start Drying Out the Floor
The process of drying out your floor now starts here. Even after vacuuming the standing water, the floor may be carrying some form of wetness. This is where a dehumidifier comes into play. It helps in pulling the remaining moisture from the water, giving your hardwood floor a better chance to recover. It also helps to maintain the ideal humidity levels in the floors affected by the flood. To ensure a faster and more effective drying process, you can add fans and turn on your AC.
Note: Heat can be used to dry out various items but in this case, DO NOT use any heat. It will do more harm than good. It may bring cupping, splitting and facilitate mold growth.
Check For Any Signs of Mold
Even if the water has been in your home for a short time, it can bring mold damage. Mold is a harmful substance that can bring serious health effects to you and your family. If the water has been standing in your home for some time, you should look into mold inspection and potential mold remediation. Note that mold is not easily noticeable; look for an expert who specializes in handling these issues after a flood.
Is the Damage Too Much?
There are cases where the level of much may be too much such that you can't handle it on yourself. If this occurs, the experts at Titan Restoration of AZ can aid in salvaging your floors after a flood. These experts have professional experience with residential water damage.
Bottom Line
By following the above simple tips on how to dry out hardwood floors after a flood, your troubles will be over in no time. Handling the problem within the shortest time possible can make a huge difference in your hardwood floor restoration!