How to Fix Laminate Floor Water Damage
Signs of Laminate Floor Damage
The sad news is that majority of the above-listed symptoms cannot be rectified. Lucky for you, these floor mishaps caused by water damage can be fixed by following simple steps for replacing discussed below. Depending on the size and situation of the damage, you may need to replace the entire room. If the damage is severe, you can hire a professional to get the job done.
How to Fix Laminate Floor Water Damage?
1
Be Sure That the Source of Water Damage Is Contained
There is no point in fixing your laminate floor if it is just going to be damaged again. Find the source of the flooding or leaking and take care of it. By putting your laminate floor repair job on hold till you are sure that the flooding or leaking has ended, you will protect your floor from being waterlogged in future.
2
Inspect the Locking System to Identify Damaged Plans
By doing this, you will determine the destroyed areas. This step should be easy, but it will require your undivided attention. Check for warping and bubbles, also be thorough in your evaluation. Mark the affected areas with a marker pen or sticky notes according to the severity of the damage. This way, you can quickly access how far-reaching the damage is and take the appropriate measures.
3
Get the Right Tools for the Project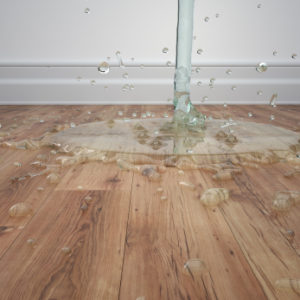 Here's a checklist of the things you will need to get the job done: safety glasses, flooring adhesive, putty knife, utility knife, measuring tape, cleaning solvent, pliers, hammer and replacement underlayment material. You will also need to find a new laminate planks that match your existing flooring. It is not easy to find matching laminates and many homeowners opt to replace the entire floor instead of just fixing the damaged portion. Avoid last-minute shopping trips to the flooring store by having the mentioned materials ready ahead of time.
4
Remove the Laminate Up to the Problem Zone
You will need to use the right tools for this task. If you don't want to spend money on purchasing new equipment, you can hire a professional. Before you settle on a technician or flooring company, do a background check to ascertain their credibility. If you choose to do it yourself, carefully pull up the damaged planks by running a putty knife under the damaged edges. You must get rid of the entire plank even if only a small portion of it is damaged. This is because every plank is a single unit. Pry up the planks as well as the baseboard to expose the bare floor beneath. Check the sub-flooring for any sign of mold or mildew. If you don't notice any damage, reinstall the planks that are popped up.
5
Replace the Damaged Planks.
Replacing the damaged planks might be the biggest challenge. Ensure to replace using the
same laminate planks you have installed. Unless you bought extra planks when you first installed them, getting exact replacements can be daunting as you could soon discover. To avoid replacing the whole floor, purchase from the same manufacturer or laminate flooring dealer, or at least find a suitable replacement that will balance nicely. Get rid of moldings in preparation for replacing flooring.
6
Finish by Reinstalling The Flooring.
Remember to match any designs on the laminate flooring as closely as possible. Apply enough adhesive and place and heavy object on your new laminate. If installing in water prone areas, like the bathroom, allow the floor to dry completely before using.
Everything we do is aimed at making your fire damage restoration as easy, efficient, and beautiful as possible.
Fixing water damaged laminate floors is not an easy task, but by using the above-discussed tips on How to fix laminate floor water damage? you will be able to repair your laminate floor without having to install a whole new floor. Titan Restoration of AZ, is an amazing company that can be of emergency assistance, 24/7, if you are unsure of exactly how to handle the task or need an experts suggestion.