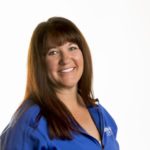 Started with Titan: 3/13/2013 (5 years in the industry)
Certification and Training:
IICRC Certified – Water Damage Restoration
IICRC Certified – Applied Structural Drying
Bio
Sami has been with Titan Restoration since 2013, first as a Construction Coordinator and now as Emergency Services Division Manager. She previously worked for Probation services in the White Mountains of Arizona. She attended the University of Arizona where she studied Business/Accounting. Go Wildcats!!! Sami is WRT certified and a master in the field of water restoration. She manages the drama of several teenage girls at one time, although most of them are young men. She is an asset to Titan because of her knowledge and ability to lead. She works well with others, receiving high recommendations from homeowners she works with as well as being the most popular girl in the office.
She is the proud mother of four busy children who light up her life and when she isn't at work she is watching them participate in sports or participating herself. She loves to travel and has been to several different countries across the globe. She is huge country music fan and loves to attend 80's and 90's country concerts in small venues around the country. She also is huge Jimmy Buffett fan and an active "Parrott Head"! She loves to have fun and is willing to try anything at least once. She is the life of the party and is kind and friendly. She is self-reliant and independent.
---