Obviously, the first thing to do after your home has caught fire is to call 911 and get emergency help.
Because manufacturers have increased the amount of synthetic materials in household products, fires burn much more rapidly today than they did twenty or thirty years ago.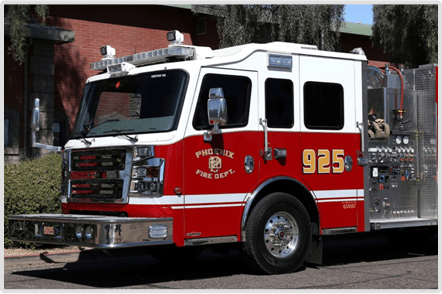 This means that you need to get out of a building or home that is on fire immediately and call for professional, emergency help.
The first responders who come to your home will concentrate on first on the safety of the home's occupants and getting everyone out of danger.
Then they will concentrate their efforts on saving the structure of your home itself.
When the fire department works to douse the flames, it often requires additional damage to occur, such as water damage,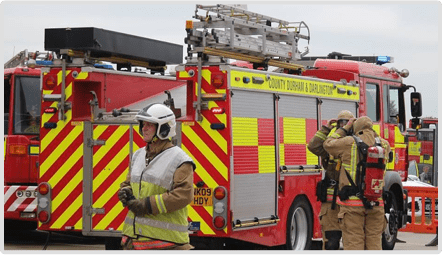 chemical fire retardant exposure, and structural damage like opening walls, windows, or ceilings. All of these things are necessary to stop the fire.
Once the fire is out, you will slowly start to comprehend the extent of the damage and the reality of what has happened.
This can be overwhelming and even frightening.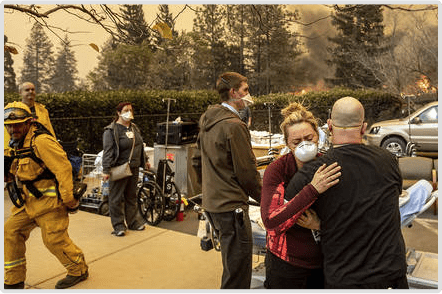 First, take a deep breath. You are at the very beginning of a long process. As much as possible, try to relax and allow yourself to grieve and process your loss.
There aren't very many things as devastating as a house fire. When your whole world just went up in smoke, it is perfectly normal to feel overwhelmed, grief-stricken, and anxious.
As horrible as it feels right now, try to remember that everything is going to be okay. We have had many clients who find that even though this is one of the hardest days of their life, things do get better eventually return to normal.
Stress and worry will not make the process go faster or return your life to the way it was. Try not to let your mind run away with anxiety and fear, but instead, decide to just take one day and one decision at a time.
You cannot change what has happened, but you can just move forward one day at a time. You have a long process ahead of you and you don't have to do it all at once. Focus on one step at a time.
3. Call Your Insurance Agent
After calling emergency services so that the fire can be put out, the next call you make should be to your insurance agent or company.
The first things you need to do are informing them of the loss and then ask what you need to do immediately.
The primary things to ask about are the time table for removing any standing water and securing the property by covering the windows and doors.
As we noted before, some of the damage to your home will be because of the flames themselves and some of the damage is a result of the firefighters doing their work to extinguish the fire.
It is not uncommon for them to break windows or cut holes in the roof or walls allows for ventilation in order to slow down the fire's growth. These holes can also allow dark smoke to escape to make it easier for them to do their job and see what is happening.
Obviously, both the ventilation and the water sprayed on your home will damage the property. If water is left to sit for a long time the damage increases.
Depending on the nature of the fire and how extensive the damage, it may be possible to mitigate some of this damage if the standing water is removed as soon as the fire department says it is safe.
Your insurance agent can help you get this process started and also authorize a restoration company to help you secure your property.
After fire damage, your insurance agent will help you file a claim and restore your property as well as replace your belongings.
But before all of that and before the restoration process begins, your agent should help you address the more immediate needs of minimizing water damage and alleviating security concerns.
4. Find a Safe Place to Stay
After a fire, no matter the size of the blaze or the extent of the damage, you will need to stay somewhere else for at least a few days.
Even small fires need to inspected and the property needs to be thoroughly cleaned of soot, smoke, ash and burned materials before it is safe to reoccupy the home.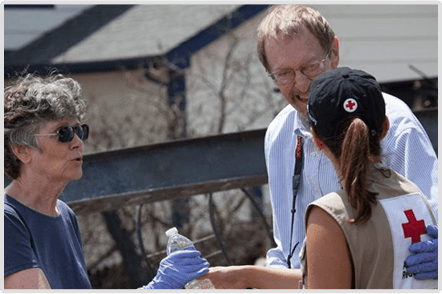 There are also lots of unseen chemicals in the air that can make you sick or cause significant respiratory or other health threats that will need to dissipate.
When the fire is large and causes lots of damage, a long-term housing situation will need to be found. If this is the case for you, your insurance company can help you determine what kind of temporary housing can be set up during the cleaning, restoration, and rebuilding process.
In some cases, restoration can take several months. But for now, just find a place you can sleep for a few days while the extent of the damage is assessed and safety concerns are minimized.
It is very important that you get plenty of rest during this stressful time and have a safe place to stay. This will help you as you make the decisions you need to and be better prepared physically, emotionally, and mentally.
Many people find that staying with family or friends can make the recovery easier and can be very comforting at this time of loss.
If you don't have that option or don't have a place to go, you can always contact a local disaster relief service, like the Salvation Army or the Red Cross and they can help you find temporary housing.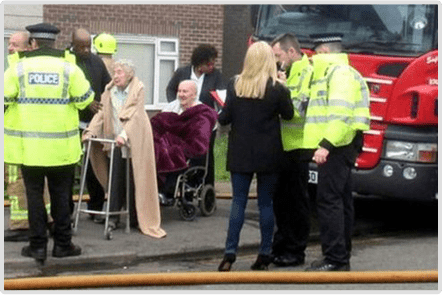 If you have pets, you need to take them with you when you leave your property.
They have also been through a traumatic event and may be scared or nervous. Remember that scared animals often instinctively react by scratching, biting, or hiding, so be careful as you handle and comfort them.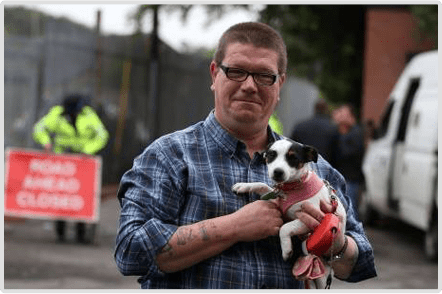 Speak to them gently and calmly. They can sense your stress and fear, so try to breathe deeply and relax.
Your property is just as unsafe and toxic for your pets as they are for you or your family. Leave them with friends or family when you have to go back to the property for inspections or cleanup.
The debris from the fire and the chemicals released during combustion are dangerous and you want to prevent your pets from being injured or exposed to health risks.
Your homeowner's policy generally covers your home and your personal property when it is damaged in a fire.
But after the fire is extinguished, most policies require you to make sure your home is secure from further damage or destruction.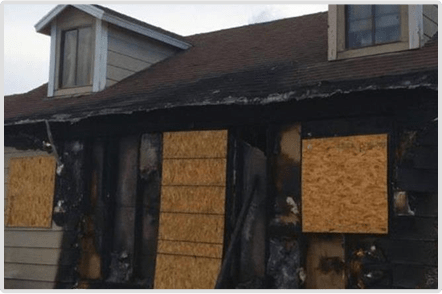 This includes damage from the elements and from other people.
If the fire department says that it is safe to do so before you leave the home you will need to secure the property as much as possible.
This could include boarding up windows, doors, or other openings with plywood or securing tarps over holes in the roof or walls to prevent further damage from the weather.
Your insurance agent can tell you exactly what you need to do to secure the property and restoration companies are prepared with the equipment and knowledge to help you protect your home.
You can contact the police department and tell them that you will be away from your home so they can help watch the property as well.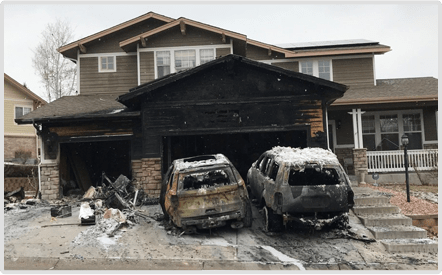 It is very important to understand that boarding up your home will increase the potential dangers in the air.
When you cover the openings, it protects the home from the outside elements, but it does not allow the particulates, toxins, and VOCs that were created by the fire to dissipate.
In fact, the National Institute for Occupational Safety and Health characterizes this situation of poisonous burned materials with the lack of ventilation as "immediately dangerous to life and health" (IDLH).
Protective masks and breathing equipment need to be worn by anyone who enters the house after it has been boarded up.
7. Call a Restoration Company
After you talk to your insurance agent, they can authorize you to call a restoration company to help you with immediate concerns like water damage and securing your home from break-ins or weather.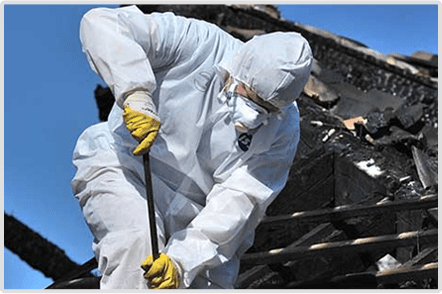 The restoration company will immediately send an emergency response team to your home to assess the damage.
When it is safe to do so, the restoration company will secure doors, windows, and other holes or openings to minimize further damage.
Where possible, they will also begin pumping out water and drying which can reduce water damage, mold infestation, and further damage.
One of the most important things restoration companies can help with after a fire is to improve the ventilation of the property.
Using industrial-strength fans and running state-of-the-art air scrubbers they will start to clean the toxins and VOCs out of the air, to help reduce the amount of smoke damage your home and possessions are exposed to.
Restoration companies use sensitive filers, specialized equipment, alkaline cleaning agents, and years of experience to remove all the traces of smoke from your home.
Smoke can be very corrosive and continue to damage your home, furnishings, appliances, and household items long after the fire has been put out.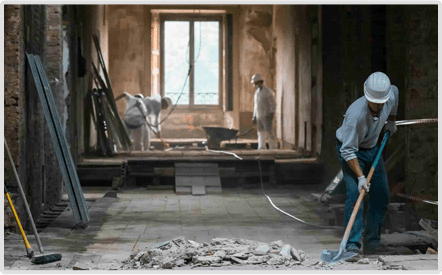 The first actions of the restoration company are really important in preventing and mitigating additional damage to your home.
Call a restoration company with years of experience in fire damage. Make sure they are licensed, bonded and insured and have a proven reputation.
8. Understand the True Dangers
This is often one of the hardest parts of the fire damage process to understand.
When you think of a fire, it seems obvious that the most dangerous part is the flames or the smoke.
But it's important to realize that many of most dangerous parts of fire are actually found in the ashes and the aftermath of a fire—long after the flames are out and the smoke has dissipated, there are still serious dangers lurking.
For example, when materials are burned they release toxic volatile organic compounds (VOC's), which are extremely toxic and hazardous to your long-term health and can even be lethal if ingested or inhaled or absorbed by the skin. Sometimes these effects are felt immediately, and sometimes they don't show up for months or years.
For example, there was a fire chief in California that got sick after doing an inspection of a fire. He had inhaled a near-lethal dose of sodium cyanide which had been created because the chemicals of jewelry refinishing business were burned in the house fire.
In every fire, there are lots of potentially dangerous chemical combinations that are created. This fire chief was only saved by spending time in a hyperbaric chamber. Extreme caution needs to be exercised when reentering a property where there was a fire.
Understand that even when the fire department says you can reenter the property, those chemicals are still present.
There are particulates, smoke and soot residue, VOCs, and other chemical compounds in the air that have not fully dissipated and that cling to building materials and furnishings. These all represent areal threat to your health and safety.
Also remember that these toxic particles are, for the most part, invisible to the eye and so small that they can pass undetected through the lungs into the blood stream and then be transported to vital organs.
Even more dangerous, some are even small enough to enter through the nose and enter the brain through the olfactory nerve, completely bypassing the protective blood-brain barrier.
Whenever you visit your property to inspect work or check on progress, be sure to wear protective clothing, gloves, masks, and breathing filters.
While you go through the fire damage process, there will be lots of details to keep track of.
It is recommended that you keep a notebook, folder, or binder with you that holds all your information and notes in one place.
It will be helpful to keep a record of any conversations you have with your insurance company and restoration contractor.
This can help you remember the things you need to follow up on or provide to them, and it can help when you need to resolve misunderstandings.
Keep a loss list of everything that was lost in the fire—and anything that is removed from the home for cleaning or disposal. There is so much to remember after a fire, but recording these things as you go will help ensure that your insurance claim is accurate.
While making a list of everything you lost can feel impossible and overwhelming, it is important to simply start. We find it is easiest if you just start a list and every time you think of something, write it down.
Your insurance company will probably ask for an estimate of the value of the item and the amount you paid for it. If you have receipts that were not damaged in the fire for any of these items that may also be helpful in settling your claim.
Another way to do this is to go through your house mentally, one room at a time. Think about what was in that dresser or in those drawers or under the bed in the guest room.
Try to mentally picture the room and what was on the walls or the furniture that sat in the room. Breaking the house down room by room can help you manage this enormous task.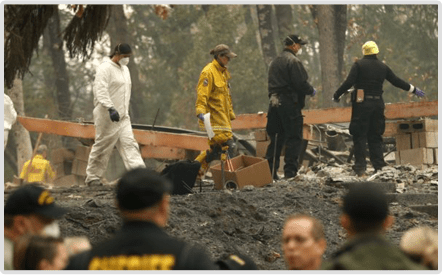 Retain all your receipts for any expenses you have during the time away from your home and store them in your notebook as well.
In some cases, these expenses may be offset by your insurance policy and may be reimbursable, and you will need to have a record of your purchases. You can also claim these losses on your tax return.
10. Remember You Are Never Alone
While you are experiencing something that no one ever wants to go through and while you will probably have many moments along the way where you don't know what to do, remember you are never alone.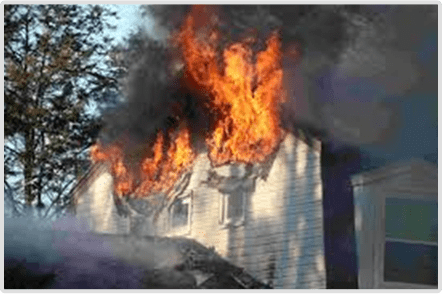 From the first responders to your insurance agent to your restoration company, all of these professionals have the knowledge to help you take the next step in your journey. You are surrounded by people who have years of experience, expertise, and understanding.
The firefighters, police, and other first responders who work on your fire are there to ensure your safety. They will tell you when it is safe to reenter your property and can help make sure it is secure.
Your insurance company, agent, and adjusters have seen many house fires and they know how to process your claim so that work can start.
Additionally, a good restoration company will know exactly what to do to clean and remove all the damage and invisible threats that can occur with fire damage. They will help you all through the process, keep you informed, and restore your property to the way it was before the fire.
If you ever feel lost or don't know the answer or the next step to take, there is someone around you that does. Ask for help and always remember you are never alone in this process.
At Titan Restoration, we have been in the fire damage restoration business for over two decades. We know how to help you restore your property and your life as soon as possible. As scary and uncertain as a house fire can feel, you can be assured that we know what steps to take and we can guide you through the entire process.
Our experience and expertise allow our clients to have peace of mind, knowing their claim and their property are being taken care of. Our techs are knowledgeable, we use the very best equipment, and we thoroughly clean and test every property we work on. If you have questions or concerns or have experienced a house fire and need our help, please contact us today.
Everything we do is aimed at making your fire damage restoration as easy, efficient, and beautiful as possible.
Now it's your time to share your feedback.
Let us know if this guide is helpful to you.
Share and comment down below and remember we are always here to help you out in Arizona for 24/7 Emergency Service just give us a call : 480-649-5050.